When meeting with a new client for a yard or garden design, I often get comments like "I don't know a lot about gardening and I definitely do not want to spend all my free time weeding and maintaining." Having heard the comment or a question like it more than a few times, I am quite prepared to answer. Of course gardening skills are not a requirement for buying a house, but it's very easy to picture them as part of the home owners chores. Many of us remembering endless days weeding and mowing our parents gardens and envying the neighbours with the tidiest lawns get quiet chills down our spines at the thought of once again becoming a summer slave to the weed and the grass. That being said the style of a garden should neither be dictated by our parents gardens, our nostalgic chilhood or the relentless maintenance precision of our neighbours. Your out door areas should be designed for you and with what you love doing in mind. If working in the yard is not your thing chores such as weeding, applying wood stain, mowing and rebuilding should be kept to a minimum. After 25 years of asking homeowners obout their outdoor living dreams, a list of the most sought after activities would read something like this:
1. Relaxing in a sun chair drenched in sun block
2. Drinking a favoured beverage whilst gazing into the sunset
3. Barbequeing awesome meals
4. Soaking in a hot tub whilst gazing up at the stars
5. Enjoying hard earned family play time
For this dream to be a possibility, a garden or yard has to be designed with a low maintenance plan which may include the following:
1. Hardy trees and ground covering shrubs creating weed free areas.
2. Simply shaped grass lawns that are easy to tend.
3. Large unit paving to limit the space between them to minimize weeds.
4. Low maintenance decking or stone and easy to tend sheltering walls.
Of course having a plan, for example a landscape design, is the very first requirement for such a garden. Included in such a plan might be the trendy driftwood style deck. This recent trend of using decking materials that can take on a weathered look without loosing it's durability are for many becoming a key element in keeping maintenance to a minimum. By doing nothing for a few years and letting the wind and sun work on the surface the decked area will take on a silvery grey driftwood style which will beatifully complement many modern houses. In the examples below the wood types used are the bankirai hardwood and larch.
This silvery deck surrounded by retaining walls and a low forest make it the ideal place to catch up on well deserved recreation and relaxation. The hardwood deck only needs a few years before the sun has turned it a silvery grey and the owners will never have to take out the wood stain. The white retaining wall and the dark basalt columns accent the silvery grey backdrop of the deck.
Sheltering walls and decking paneled with larch make this split level deck ideal for parties and family get togethers. In this Scandinavian garden the bench depicts a large worm from the Nordic mythology.
In this sunken garden in an area where shelter from winds is crucial, the owners can relax in their own private silver oasis in the city. The horizontal lines in the fence complement the long narrow space and the bench detail detach the tall wall from the deck.
If relaxing is not enough, a few pull ups on this built in bar might just do the trick.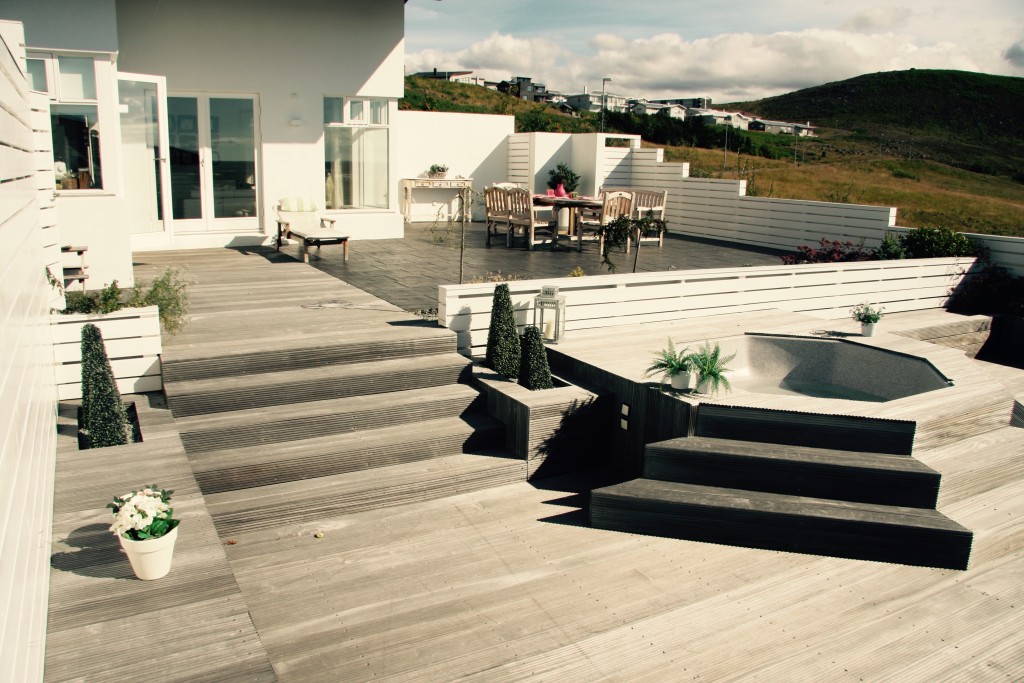 Driftwood style decking, spray painted walls and a concrete patio create a great invitation for a day filled with outdoor pleasure.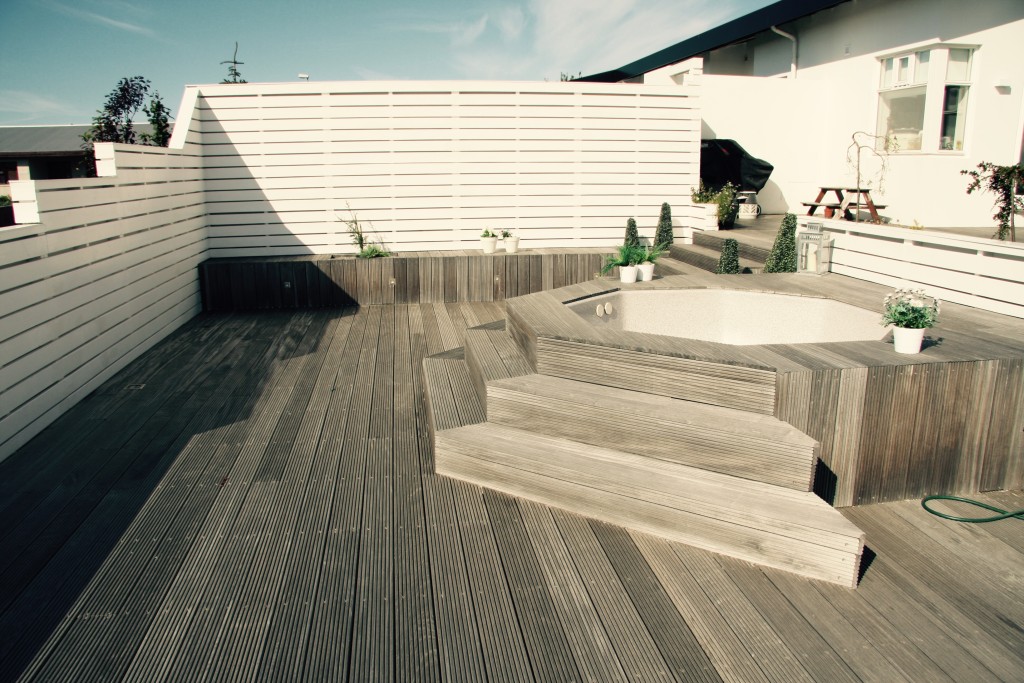 A hot tub on cold days is a pleasure favored by many to days spent preserving and staining a timber deck.