Are your wondering how much it costs to have your garden or yard designed?
At Urban Beat Design we offer garden design in three simple step:
Step one: Three sketch ideas including 3 ground plans of your garden and 3D sketches
Step two: Master Plan combining the best elements from step one.
Step three: Construction drawings and planting plan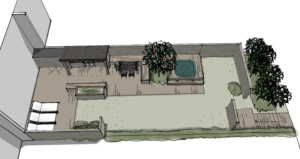 If you send us the following info we will send you an idea book and a quote. Send the following information via email to bjorn@urbanbeatdesign.com and we will send you a quote along with an idea book portraying some of our projects so that you can browse and choose what you like. Necessary information:
Plans of the building and grounds (architect drawings), along with the address.
Pictures of the house from all sides and pictures covering all areas of the garden or yard.
A list of your dreams and wishes and how you expect to use your outdoor space in the future.
I really look forward to hearing from you,
Björn Jóhannsson Landscape Architect